by Donna Hatch
Remember the holiday tune "Here we come a-wassailing?"
Here we come a-wassailing among the leaves so green;
Here we come a-wand'ring so fair to be seen.
Love and joy come to you, And to you your wassail too;
And God bless you and send you a happy New Year. And God bless you a happy New Year.
Ever wonder what "a-wassailing" means?
it means to sing for some wassail. I guess it's kinda like singing for your supper, only the carolers go from place to place hoping for a nip of the traditional hot beverage.
One of my winter and holiday favorites is Wassail, also know as spiced hot apple cider. It's one of those things it's hard to get wrong. All the recipes I've tried are yummy and satisfying. Some include citrus such as lemon and orange. Traditionally, it contains alcohol such as wine or rum or even ale, but I don't drink alcohol so I make it without. No matter how you make it, wassail is a comfort for cold winter nights as well as a solution for a sweet craving. A few years ago, a friend shared with me her trick: apricot juice. It adds a richness and complexity other recipes don't have.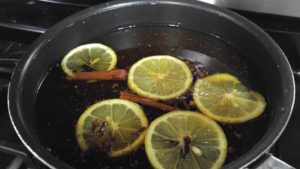 Here it is:
1 large jug of apple cider
1 can of apricot juice
3 cinnamon sticks
4 nutmeg cloves
a dash of nutmeg
a dash of allspice
Optional: orange or lemon slices
All of these can be adjusted according to taste so you may want to experiment.
Simmer for at least an hour but you can simmer all day. It does get stronger and stronger so after several hours, you may want to tone it down with a bit more apple cider. It makes the house smell heavenly!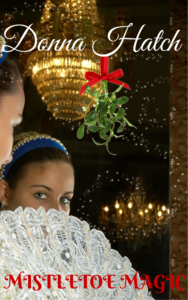 In my Christmas novella,
Mistletoe Magic
, the heroine adores the wassail her friend's mother makes and will go to great lengths to get the recipe...as well as take advantage of the mistletoe at the annual Christmas ball.