by regular blogger, Donna Hatch
www.donnahatch.com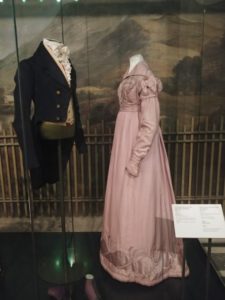 A fun aspect of reading and writing historical novels is the clothing. Who wouldn't want to dress up in a silk gown and dance or promenade, even if it's only vicariously? It's become one of my life's missions to seek out and sigh over any historical clothing while visiting museums. What started with a thirst for historical accuracy has morphed into a nerdy passion. This latest find is in the Victoria and Albert Museum in London. This exhibit is circa 1815 to 1820--perfect for the Regency Era.
The gentleman's ensemble would be appropriate for all informal daytime occasions. Any gentleman would look sophisticated and dashing in this cutaway tailcoat, waistcoat (which most people pronounce waist-coat but I'm told the truly posh pronounce it wes-kit), and expertly tied cravat. The bottom portion of his ensemble is not shown but a pair of knee breeches and tall boots would have been the most likely finishing touches.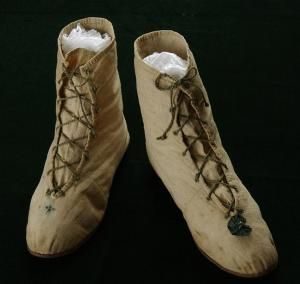 The lady's ensemble is called walking dress or promenade dress. The garment itself is a lovely pelisse meant to protect the gown from the dirt of the streets as well as make a fashion statement. Notice the lovely detail on the bodice, sleeves and above the hemline. I love that dusty rose color!
The lady wearing this pelisse would have probably worn half boots which were sturdy enough for walking, cut short at the top for ease of movement, and still fashionable. Nankeen, a type of cotton, was a popular fabric to use for the upper portion of ladies walking books.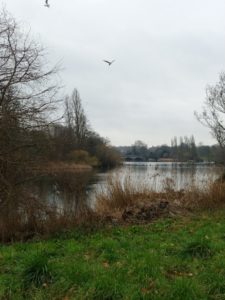 The couple wearing these clothes would have turned heads while walking or going for a carriage ride in Hyde Park.